Soundtrack update Jan 2023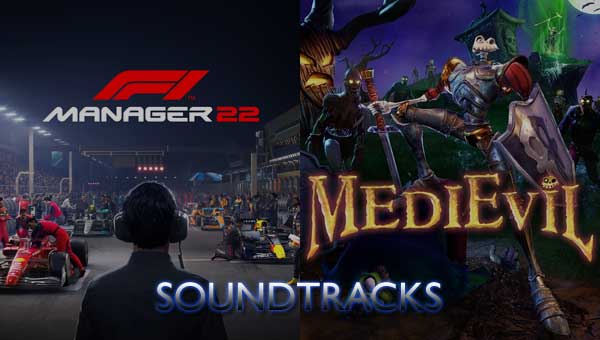 F1 Manager '22 Soundtrack
The soundtrack to F1 Manager '22 has been released on Spotify, YouTube and other digital streaming services. This wouldn't be possible without the stellar work from our regular players Louis Thorne on Guitar, Alex Reeves on Drums and newcomer Tiago Coimbra on bass with Rich Aitken's brilliant work on the mixes. We were one of 9 artists who provided music for this 5 hr soundtrack. Enjoy!
Spotify Link here – https://open.spotify.com/playlist/6gfYsejwuxu4KVxtc2FD0y?si=feb284f1ca8f486a
YouTube Link here – https://www.youtube.com/watch?v=apmysMzLs5c
MediEvil PS4 Soundtrack
It's wonderfully heartwarming that almost weekly we're getting asked 2 questions about MediEvil. The first is "where's the remake of Med 2?". Alas that's not up to us, but please keep asking Sony and we can all cross our fingers as we'd love that too!
The second is where is the official soundtrack to MediEvil 2019? There's versions on YouTube but no official soundtrack on digital or physical form (the last physical OST for Resurrection sold out years ago.) The simple answer is it's complicated! Sony America released Med PS4 whilst Sony Europe released the 3 prior games and since the PS4 version contains new versions of music from earlier games this has created problems. There's light at the end of the tunnnel! A possible solution has been suggested as of Jan '23 so we're hopeful that this may well see the light of day. We're crossing our fingers.