Host the Week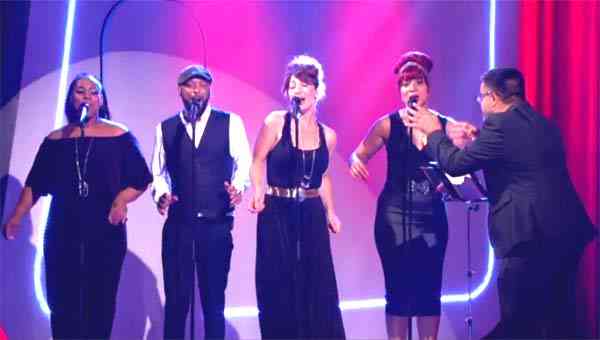 Host the Week was a topical political satire in the same vein as Saturday Night Live where a celeb who hasn't seen a script has to improvise his/her way through topical sketches filmed live in front of a studio audience and aired the following day.
The show was produced by Tiger Aspect Productions, and aired on Channel 4 in the UK on June 22nd 2017. Andrew and Paul were commissioned as composers and musical directors for the show, providing all manner of quiz / game / soap / ad spoofs which changed weekly.
The title sequence was a big glitzy showbiz big band song which Andrew & Paul co-wrote with their regular collaborator Phil Watts, the lyrics changing per guest, who this week was Scarlett Moffat from Gogglebox. The singers were from well known TV show Strictly Come Dancing – from L-R Andrea Grant, Tommy Blaize, Hayley Sanderson and Elle Cato.
And to the right of the singers you can see Andrew conducting, probably the only time one of us will be in front of the camera!